Google Science Fair, a global science competition for students aged 13-18, ignited students' passion for science, grew their confidence, and helped them envision a better world.
My team at Instrument collaborated with Google to re-launch a more accessible and inclusive brand and product experience—reaching a significantly broader audience and increasing participation by 100%.

After auditing the successes and failures of previous years, we learned that students felt intimidated and struggled to submit valid, completed projects.
So, we evolved the core product feature set and redesigned the user experience, utilizing prototyping and student testing to validate our hypotheses and resolve key pain points.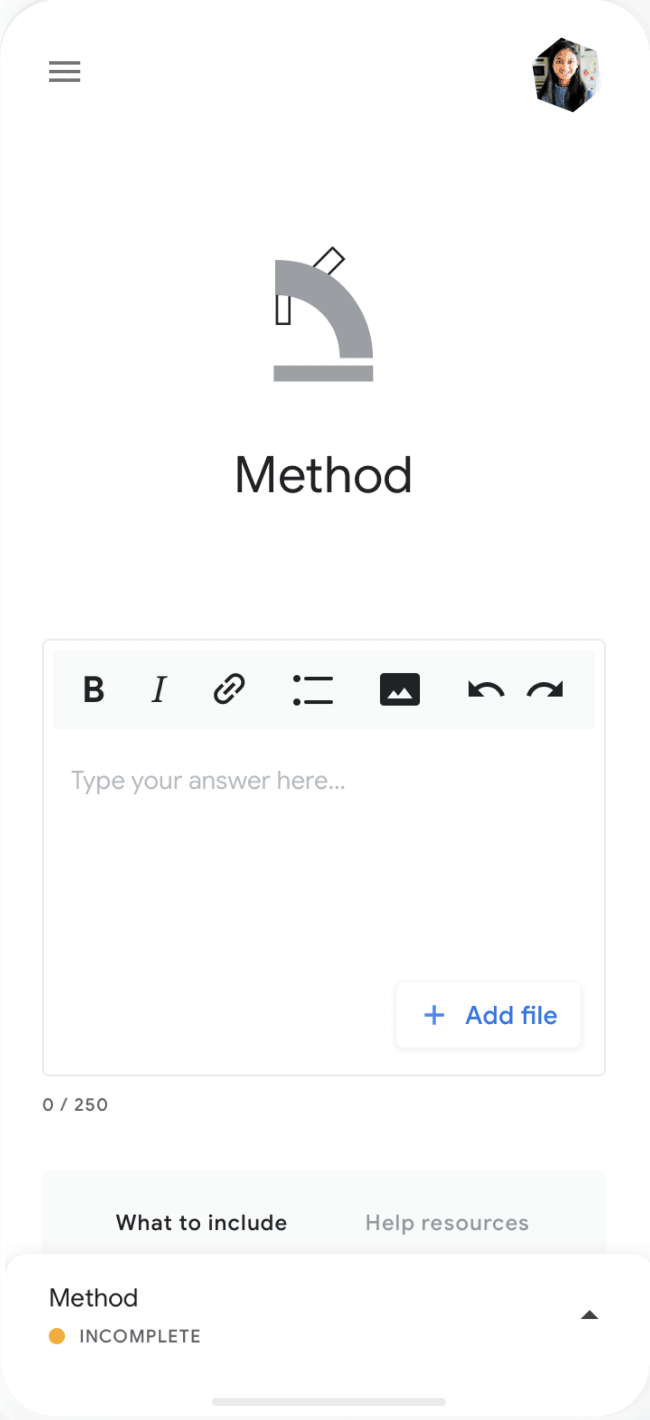 The student dashboard was one of many critical parts of the experience tested and validated with rapid prototyping.
We added features like rich content entry and autosave to give students more control without the fear of losing work along the way.
We partnered with an education consultant to create a library of unique STEM guidance and problem-solving materials, totaling over 1,000 translated documents, to provide both students and educators with contextual guidance and materials for help every step of the way.
From the research, we knew many teens aspired to create real-world change but didn't know how a science and technology project could help—or felt too intimidated to participate. We set out to change that.
So, we also rebuilt the brand from the ground up—including voice and tone, illustration, custom typography, and a digital design system—to create a helpful and inclusive brand experience across the product, marketing, educational resources, and all other touchpoints in the experience.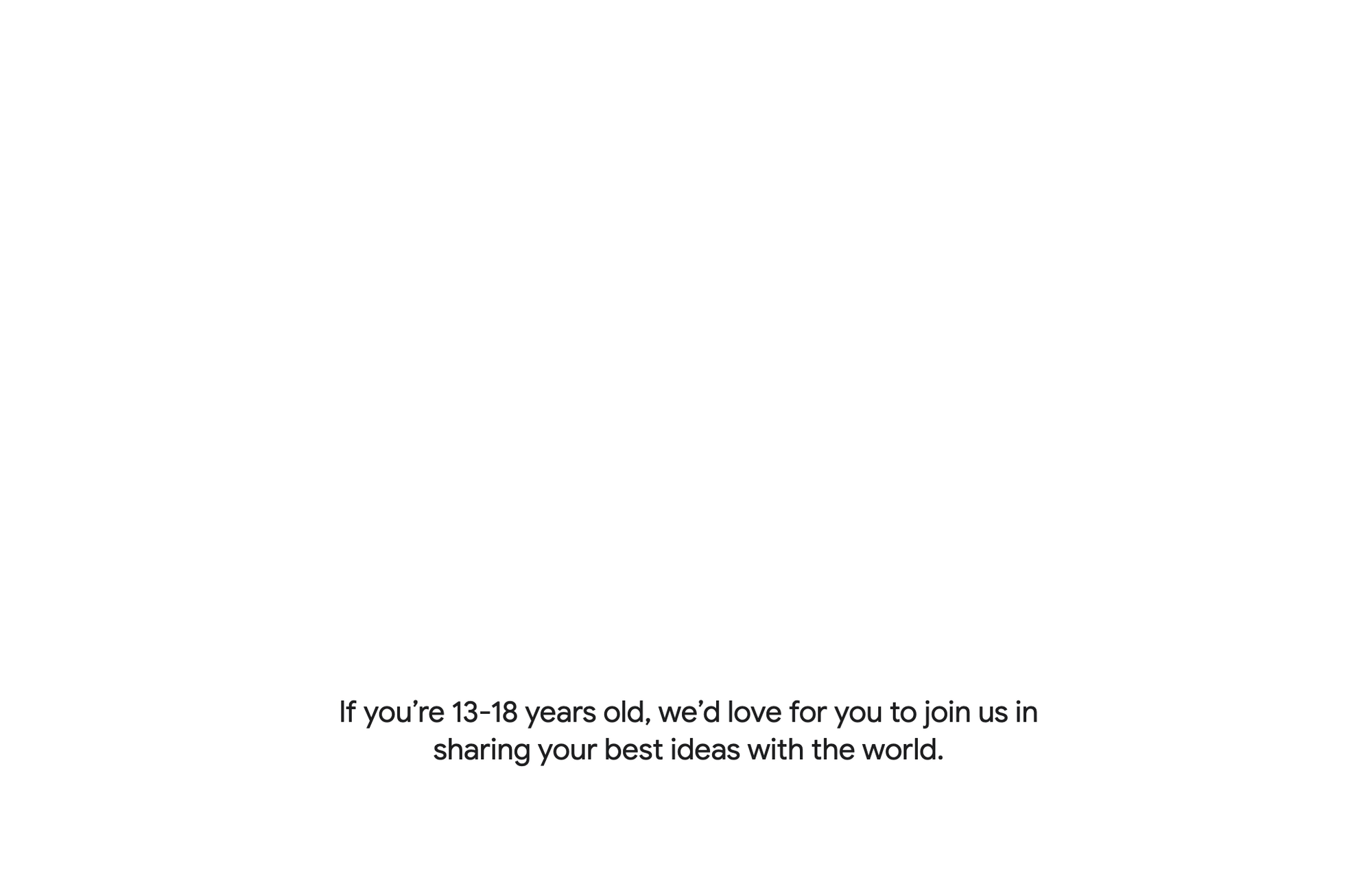 We created a marketing website to draw students in through moments of inspiration and curiousity—including fun easter eggs like an interactive logo.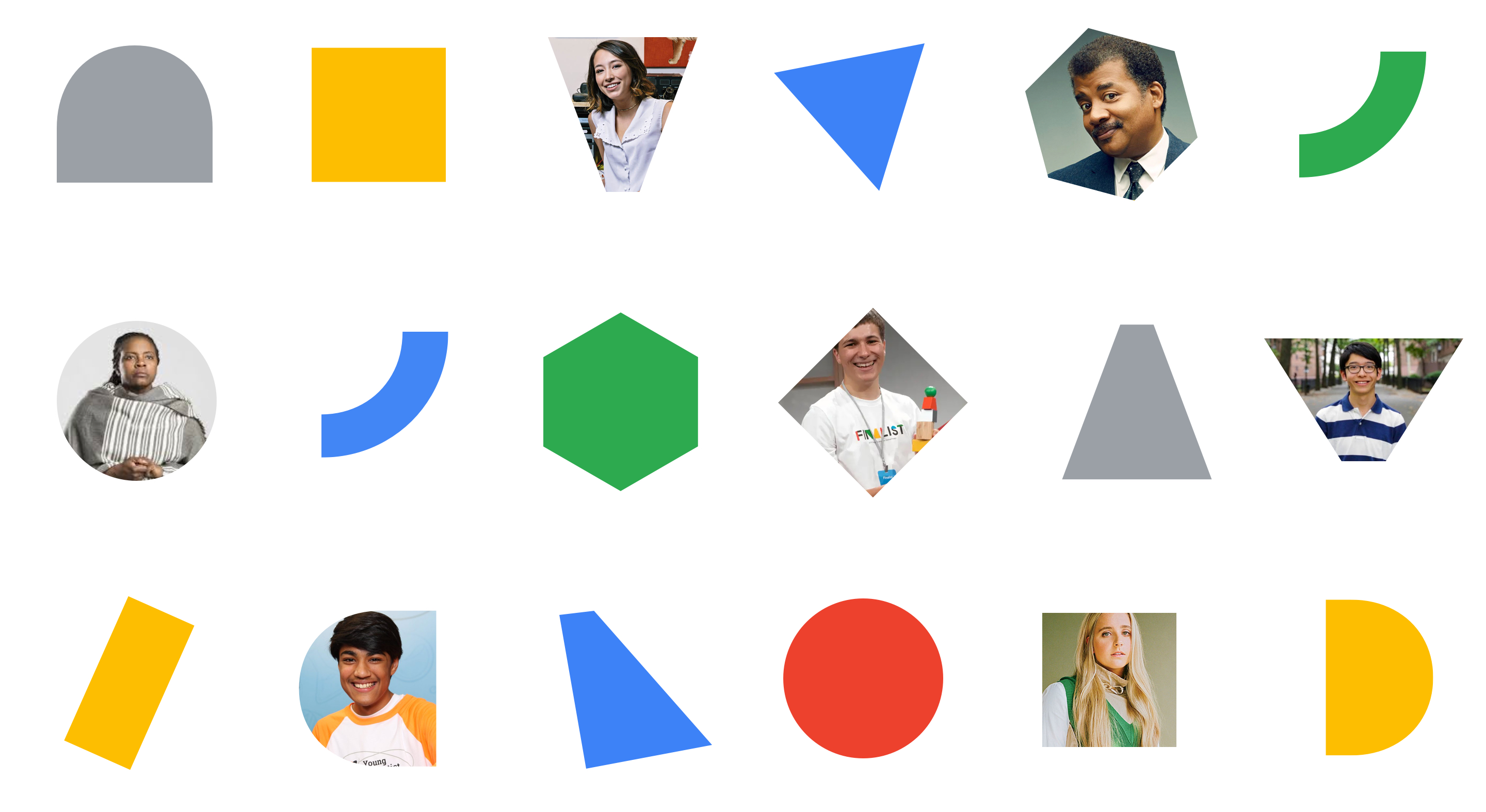 Inspired by a range of STEM disciplines and diverse perspectives, the shapes represent the power that comes from bringing ideas together to create something new and greater than the sum of their parts.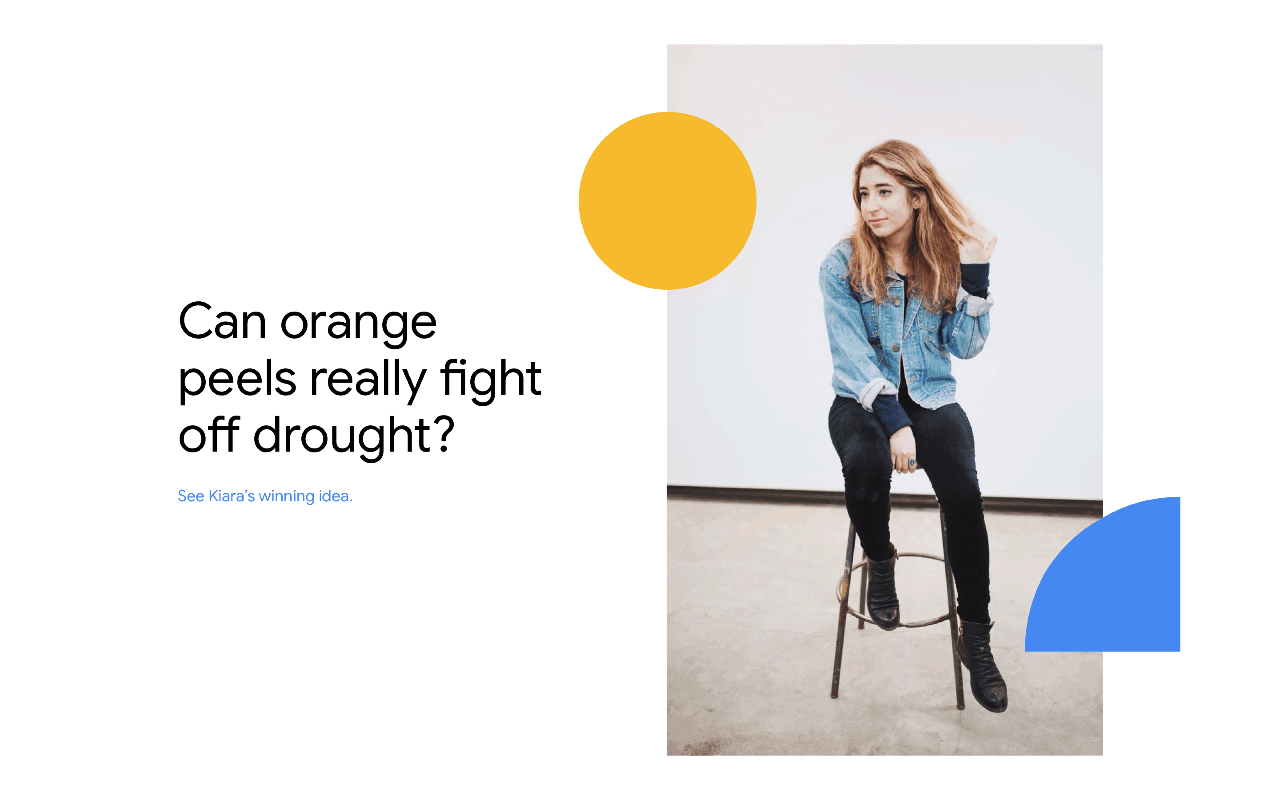 The design system considered the unique needs and perceptions of a global market. To create seamless experience for all users, the brand, product designs, educational materials, and documentation had to account for 15 languages and meet WCAG AA requirements.
To highlight past participants and make science more relatable to future applicants, we poured through hundreds of past projects to curate a content series, artfully telling behind-the-scenes stories in a flexible framework, designed to easily evolve and facilitate future narratives.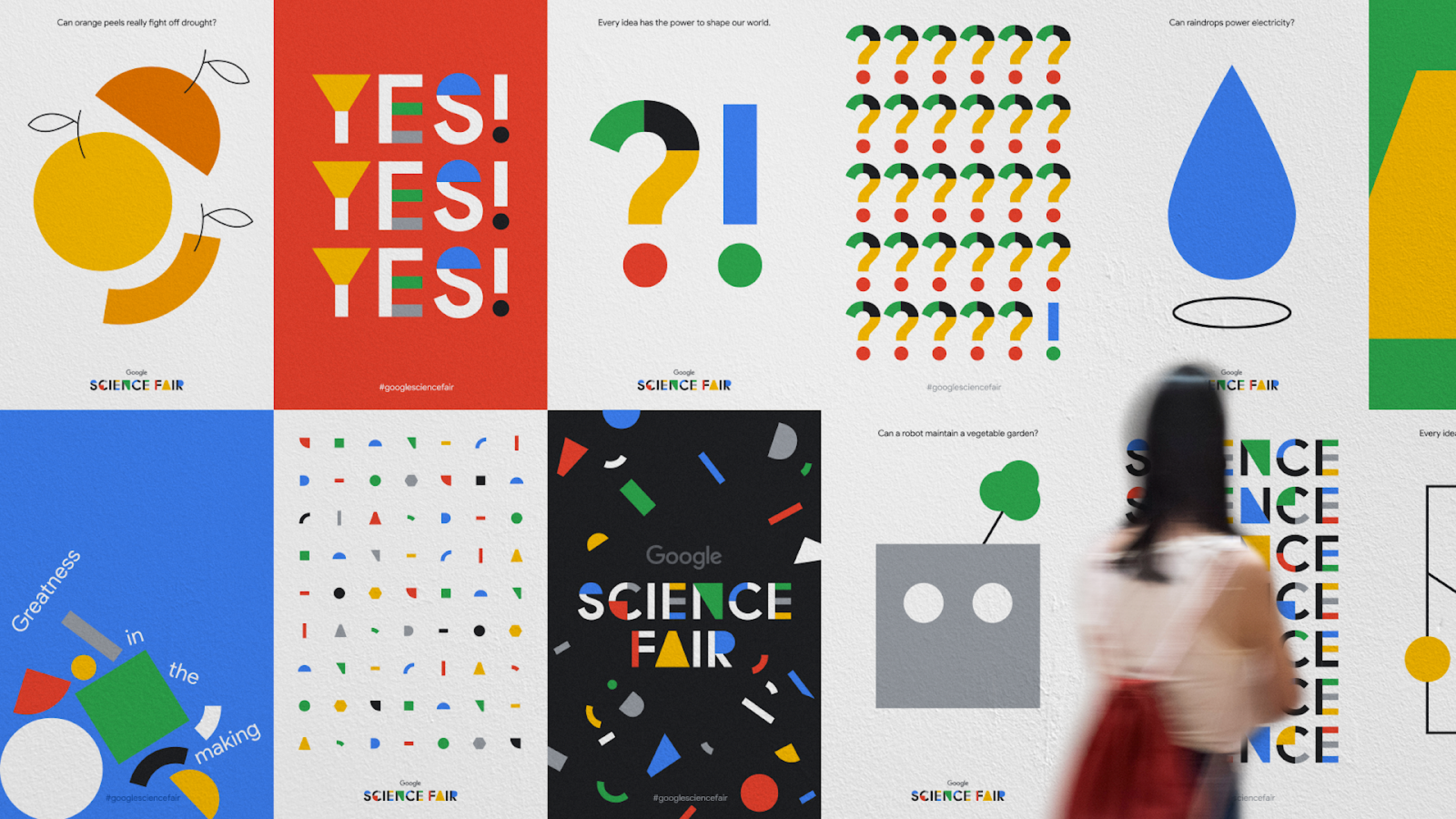 Part of the branding intiative included designing a series of posters and educational materials that were sent to classrooms around the world.
I led the design effort — working cross-discipline with these folks from Instrument and Google
Design & writing
Cameron Cooper
Daniel Moreno
Jack De Caluwé
Julie Rose
Junko Maegawa
Martha Koenig
Sunny Eckerle
Thomas Charlet
Yuriko Zubia
UX strategy
Jason King
Karan Patel
Engineering
Brian Hefter
David Brewer
Jeremie Carlson
Jonathan Streater
Brandon Gray

Production
Andrew Barden
Jonathan Creech
Nicholas Dahl
Olivia Harris
Laura Nichols